Typhoon No. 15, which landed on September 9 last year, caused severe damage to houses and vinyl greenhouses in Chiba Prefecture. In this issue, we will report on the situation in Ichihara City, Chiba Prefecture, at the time of the greenhouse collapse, as well as the scene of reconstruction.
"What was the extent of damage and number of casualties caused by the typhoon?"
As you may have heard on the news, when it comes to building damage, it is an area where steel pillars with a height of 10 meters or more collapsed at a golf practice range. At the time, the maximum wind speed in Ichihara City was 33.9 meters per second, and in the neighboring Kisarazu City, it was 49.0 meters per second. Typhoon damage in Chiba Prefecture was estimated to be 26.7 billion yen in agriculture, forestry and fisheries, and damage to vinyl greenhouses and other horticultural facilities was 17.1 billion yen over 379 hectares.
"Collapse and reconstruction"
Vinyl greenhouse complex destroyed by the typhoon This complex was a series of greenhouses. The tubes were deformed by side-winds. Like the STX that we sell, vinyl has become tougher. Thus, at many sites, greenhouse structures were destroyed together with the vinyl due to strong winds. If the tubes are intact, you can just replace the vinyl. In this case, you have to rebuild from scratch.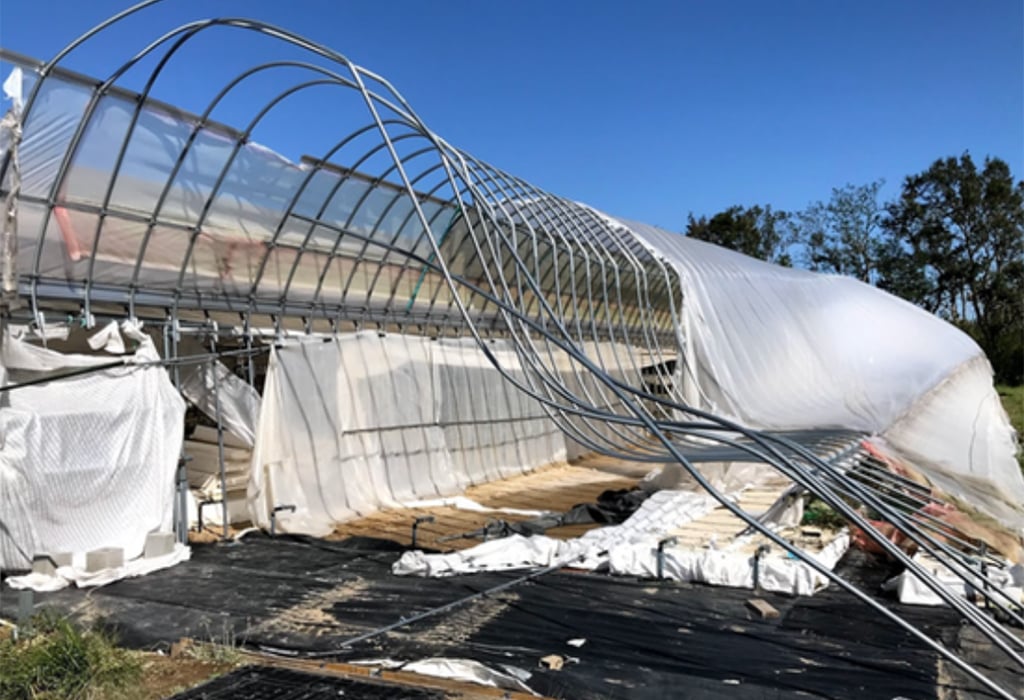 This STX greenhouse was rebuilt at just about the end of last month. It was built on the site of the warped greenhouse mentioned earlier, with STX in the arches and PPZ 50 square tubes for the door frame. The strength of the STX greenhouse at another Chiba site was well regarded, which lead to the order for this rebuilding. Some of the STX greenhouses have been changed in size and pitch to give the interior a brighter look.