Pursuit of Zero Disasters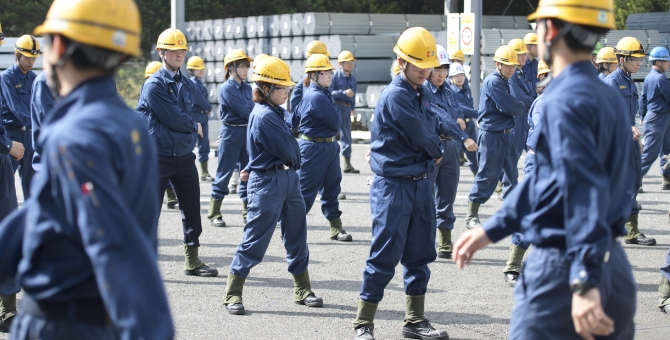 Maintaining a safe, secure and healthy work environment
Our starting point for working hard, creating value, and contributing to the world through our corporate activities is the pursuit of the "Zero Disasters" concept.

Disasters/accidents occur not only when employees are tired or worried and unable to concentrate but also when they are concentrating too much.
In order to prevent/avoid disasters/accidents, each employee must thoroughly manage himself or herself and cooperate with others in a considerate manner.
We will go even further and link up our private lives and homes to thoroughly pursue the "Zero Disasters" concept with each and every employee.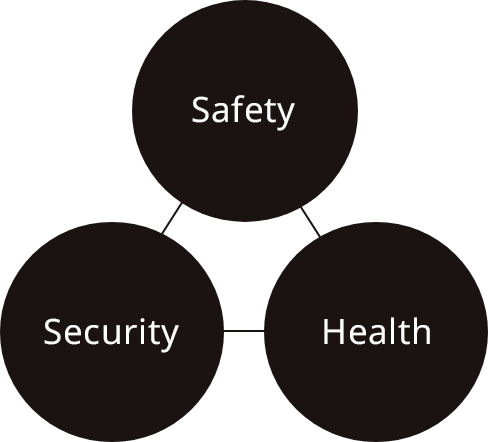 Safety: To protect each employee's life and body from accidents and disasters
Security: To eliminate the worries and anxieties of each and every employee
Health: To keep the head, mind, and body of each employee healthy in collaboration with personal life/home.
Establishment of the Hazard Simulation Training Center, implementation of regular training and development of instructors

We have established the Hazard Simulation Training Center to experience on-site operations that have a high possibility of accidents and disasters and develop appropriate response capabilities. We carry out establishment anniversary month training so that we do not forget that feeling. In addition, by training instructors for Hazard Simulation Training and providing training outside the company, we are working to create an environment that never allows us to forget our sense of mission and sense of responsibility for high levels of safety.

Workers' accident/unsafe incident information and field validation via bulletin boards

We have installed bulletin boards to share and communicate the various risks that occur at the manufacturing site and are working to "visualize" not only workers' accidents that have occurred but also the content and location of unsafe incidents.

Thorough measures to prevent falling/dropping

To steadily secure the safety of logistics partners involved in cargo handling operations, we have installed fall prevention equipment at 10 locations (9 locations indoors and 1 location outdoors) and are thoroughly implementing fall/drop prevention measures.

Provision of uniforms with name and uniform cleaning

We provide uniforms with the employee's name written small on the chest and large on the back so that communications at the work site can be carried out effectively and that even in the event of an emergency, it is possible to respond smoothly. We also offer a uniform cleaning service at the company's expense, to maintain the cleanliness and effectiveness of the uniforms regardless of each worker's home environment.

Thorough implementation of morning exercises and understanding health conditions

We are thoroughly performing morning exercises, so that each person involved in on-site operations not only understands his/her condition and starts the operations in good condition but also confirms the movements of each and every one of the people around him/her so that he/she can carry out daily safety operations.

Group welfare insurance

The company covers life insurance for all employees, so that they can devote themselves to their operations inside and outside the business with peace of mind.

Health monitoring and disease prevention

To protect the health of each employee, the company bears all the costs of health checkups, medical checkups, and influenza vaccinations, and each person is informed of his/her health condition to help prevent illness.

Offering healthy menus and improving diet

To support each employee's physical health, we provide healthy menus and salad bars at the employee cafeteria, regularly check their satisfaction levels, and make improvements.

Provision of external consultation services

By paying insurance costs and taking out general accident insurance for business use, the company provides telephone consultation (24 hours a day, 7 days a week) for external health/medical/nursing/childcare, etc.